Royal Ketubah Print
Description:
This is an absolute breathtaking ketubah:  two beautifully designed columns with fine detailed roses around them symbolize strong foundation. Two angels are blessing "Besiman Tov u'Bemazal Tov" with their golden trumpets. Any other blessing you desire can also be implemented. The bride and groom's initials at their stage would be added in handwriting. Two great lions are holding the seventh blessing's shield. On top of that there is the golden crown that symbolizes G-d's royalty.  A wavy ribbon with "I have found the one in whom my soul delights", is wrapped around the couple's initials.
Dimension: 17" x 24″  Enhanced Hand Brush Marks on Prints.
Price and Options:
Price for print on watercolor paper: $450 Dimension: 17" x 232″
Highest quality giclee print on archival acid free non-toxic best quality watercolor paper.
Price for print on Parchment: $750 Dimension: various
Highest quality giclee print on vellum.
Additional $50 for personalization of the text (no gaps between the lines, all the information about the groom, bride, parents names and dates in Hebrew and English or any other language- is included).
Price is including shipping inside the U.S. via UPS.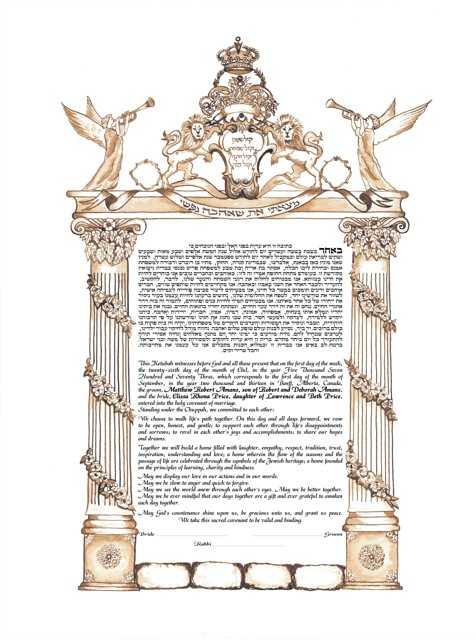 Zoom In