Delivery and Shipping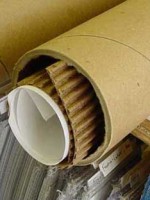 You will get your ketubah right after it is completed.
The ketubah will be wrapped with a quality kraft paper and packed in a shipping tube via FedEx or UPS, along with framing instructions and a unique non smear pen for the signatures.
I will then email you the tracking number.
Please note: If you live in SF and the Bay Area I will be able to hand deliver it to you with a temporary poster framing for NO extra cost, which you can place on an easel during the ceremony.
Worldwide shipping via Special Courier (FedEx or UPS)
By using special courier transportation your ordered ketubah will get to you within 2-3 working days. This transit time holds to most major cities. (You must calculate upon one or two days more if your city is located by-way).